Being in a car accident that wasn't your fault can put the brakes not only on your day but on your life until you can get past the accident and be made whole for your damages. When you are in a car accident that was not your fault, you have legal rights, and you should take steps to protect these rights.
The process of collecting full compensation for your losses is not automatic. To receive what you deserve, you must accurately compute the rightful amount then move through the process of collecting it from the opposing parties and insurance companies. Allow a car accident lawyer to handle this process for you.
In this article, we'll explore what you should do after your accident and how a local car accident attorney can help you collect the full amount you are entitled to after your accident.
Seek Medical Care as Soon as Possible
The most important thing to do following a car accident is to seek out medical attention. While you might not be sure whether you have serious injuries, it is best to get checked out and have any injuries, such as concussions, diagnosed immediately. This not only helps your overall health and prognosis, as prompt treatment can prevent complications, but it also helps you prove an injury claim to the auto insurance company.
After you receive emergency medical attention, you want to follow all treatment recommendations. Medical treatment can be time-consuming and even painful, and you might worry about the cost. Never miss treatment appointments for these reasons, however. Continuing your treatment demonstrates that you take your injuries seriously. If you stop treatment or miss certain aspects of your treatment plan, insurance companies will assume that your injuries are not that severe, which allows them to limit your settlement offer.
Do Not Talk to Insurance Companies
You will likely receive a quick settlement offer from the insurance company after the accident. The settlement offer might cover your emergency medical bills and vehicle repairs, and maybe even a little extra. This can be appealing, but be warned – if you accept a settlement offer, you cannot later pursue the insurance company for any additional damages if you realize the offer was far too low.
If, for example, after your emergency room visit, the symptoms of a brain injury begin to worsen after you took a settlement offer, the future costs associated with the injury will not have coverage from the liable driver, and the money will likely come out of your pocket.
Collecting what you deserve requires an accurate estimation of your damages, and the insurance company's goal is to avoid paying you the maximum amount you deserve. The insurance company's goal is just the opposite – to deny whichever claims they can and to pay as little as possible on those claims that they settle.
Your best bet is to inform the insurer that you are hiring a car accident lawyer and leave all future communications to your legal counsel.
Understand How Insurance Companies Work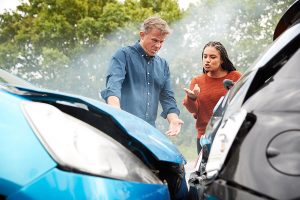 Insurance companies are in business for profit, and not unlike any other for-profit company, they do so by maximizing revenue and minimizing costs. The goal of insurers is to collect premiums while limiting payments on claims, which maximizes their bottom lines. When you receive an offer of a quick and low settlement, the insurance company increases profit by taking less employee time dealing with your case and by paying you less than what you truly need and deserve.
Knowing the full value of your claim will ensure that you do not accept anything less than what is necessary to fully compensate you after your accident. The insurance companies will pressure you to take a settlement, or the insurer might mislead you into thinking that you cannot collect anything above the first offer. This is not true. Simply put, don't speak with the insurance company after your accident – instead, speak with a lawyer and refer the insurance company to them.
Call a Lawyer – They Will Handle the Rest
After a car accident, you have concerns. How will you pay for your medical bills? When will you return to work? How long will the effects of your injury persist?
You should not have to worry about the injury claim process.
Your attorney can help with each step of the process toward receiving the full compensation that covers your medical bills and lost income, as well as your future losses and pain and suffering. You might not know where to start when calculating the full value of your claim, but a skilled car accident lawyer knows how to do this. With the right legal help, you do not have to doubt your decisions, as you will have reliable legal guidance throughout the entire process.
Having an attorney on your side as soon as possible after your accident will ensure that you can focus on recovering from your accident while your attorney handles the rest. Your attorney steps into your shoes and handles all communications and negotiations with the insurance company and opposing parties so that you don't have to.
Car accident attorneys are also affordable, as they take your case on contingency, meaning you only pay if they win your case. Their fees come out of a portion of your earnings, so you have no out-of-pocket expenses before, during, or after your case.
Reach out to a Car Accident Lawyer Now
To get fully covered for your damages following your accident requires careful consideration of how your injury will impact your short and long-term health and your ability to earn and support your family now and in the future.
An experienced car accident attorney can provide you with the full-service legal representation you need to make the most of your case. Reach out today to schedule a consultation to learn how the right car accident law firm can help you succeed.