If you suffered injuries in a car accident and another driver was at fault, you can seek compensation for the losses stemming from your injuries. As we'll discuss below, your car accident attorney can help in many ways, including accurately measuring the total costs and losses associated with your injury. They then work to collect every dollar you deserve from the responsible party.
Determining the full amount of your losses requires an understanding of the law and how car accident claims work. The best way to learn how a specific attorney will assist you is to schedule a free case evaluation and consultation with a car accident law firm in your area.
A Car Accident Attorney Evaluates Your Rights
Some people feel they can file a car accident claim against another driver's insurance, as they know a crash was not their fault. However, not every situation is that clear-cut. Sometimes, you might wonder if you did something wrong to contribute to the accident, as other parties might try to blame you. Other drivers might deny any mistakes on their part, causing you to question the entire situation.
You do not have to wonder about your rights after a collision. Instead, reach out to a car accident attorney for help. Part of their job is to evaluate whether accident victims have valid claims. They know the right questions to ask and can investigate the circumstances of your crash when necessary. Stop wondering whether you have a claim and discuss the matter with an experienced attorney.
A Car Accident Lawyer Can Measure Your Losses
Measuring losses is a complex process, and mistakes can mean you seek less than you deserve. You might assume that such calculations involve adding up the medical bills you received, but it is significantly more involved than that.
Damages can include:
Bills for medical treatment you already received
The estimated costs of future medical care
Lost wages from missing work
Future lost wages is you cannot return to work
Physical pain and suffering
Mental trauma
Permanent effects of your injuries
The insurance adjuster may be quick to present you with a settlement offer that covers your emergency room bills and maybe even some extra, which they are hoping you accept before you know the full extent of your injuries. When you accept a settlement offer that is too low, you cannot pursue further damages in the future, which can leave you footing the bill if your injury worsens or other symptoms develop.
Your car accident attorney helps you know the full value of your claim, including past, future, economic, and non-economic damages. This is the best way to protect your financial future.
A Car Accident Attorney Negotiates and Communications on Your Behalf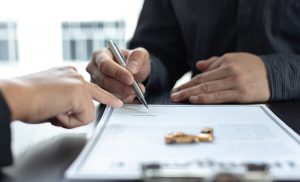 While you might think that the insurance company is there to make sure that you have proper coverage of your bills and losses, this is not the case. When you are in an accident and trying to collect from the at-fault driver's insurance company, the situation is just the opposite.
The insurance company works to challenge or minimize any claim it can, including by:
Getting you to make statements against your interest
Challenging the severity of your injuries
Trying to blame you for the accident (at least partially)
Making a quick settlement offer with the hope you'll accept it to resolve the matter as soon as possible
Telling you that you do not need an attorney
No matter what they say, the insurance adjuster is NOT on your side. They work for the corporation and have training on minimizing claims. Sometimes, an insurance company will deny a valid claim in bad faith.
The best way to avoid running into any of these obstacles is to not communicate with insurers yourself. Instead, refer them to your car accident attorney. Your lawyer knows how to handle these communications and negotiations to obtain a fair settlement offer whenever possible.
When you hire an attorney to handle an insurance claim, the insurer knows that if they don't offer enough, your lawyer will likely file a lawsuit. This leverage often helps resolve claims directly with insurance companies instead of going to court. However, if your case requires a lawsuit, you will have a car accident lawyer familiar with your situation who knows how the personal injury litigation process works.
Whether you have not yet filed an insurance claim or already filed and realized you need professional assistance, never wait to speak with a car accident lawyer about their many services.
If a Car Accident Attorney Takes Your Case, It Should Cost Nothing up Front
You might worry that you cannot afford a car accident attorney, but this is not the case. A trusted car accident attorney should not require any out-of-pocket payment at all, as they take your case on a contingency basis. When an attorney takes a case on contingency, they collect such fees out of a portion of your winnings, so they only get fees if they win you compensation. You agree to this percentage before the representation begins.
Your attorney has the motivation to generate as much compensation as possible in your case, as the more you receive, the more your attorney receives. If your claim is unsuccessful, you owe your attorney no fees at all. This risk-free situation allows car accident victims to afford the legal representation they need.
Contact a Local Car Accident Lawyer Today
If someone else caused your car crash, you want to ensure that you are not responsible for paying costs associated with your injuries out of pocket. This requires that you accurately calculate your damages and effectively collect them from the responsible party and their insurance companies. This requires preparing and filing a complex and comprehensive claim or potentially filing a lawsuit.
Your experienced car accident attorney can help you determine the best option for you, so reach out for a risk-free chat and free consultation now.