Poorly secured cargo can cause serious issues in several ways. Cargo falling off of trucks can cause significant property damage to anything it lands on, and debris on the road can precipitate serious vehicle accidents.
If you were in an accident involving fallen cargo, you might be able to obtain compensation for the damages associated with your accident. Truck drivers, warehouse workers, and others have a responsibility to load vehicles in so that they do not pose a danger on the road. When they fail, they can be held accountable under state law.​
The best way to ensure that you protect your legal rights and obtain the compensation you deserve after an incident involving falling cargo is to speak with a truck accident lawyer as soon as you can.​
Cargo Operators are Responsible for Safely Transporting Goods
The issue of falling or shifting cargo and the accidents and damage it can cause has been the subject of national attention by the Federal Motor Carrier Safety Administration.
The agency established a new national cargo securement that reflects the North American Cargo Securement Standard Model Regulations. These regulations note the importance of safely securing cargo to prevent public and employee safety risks. When truckers or others violate these regulations, victims can typically obtain compensation for their losses.​
How Can You Tell Whether Cargo Was Improperly Secured?
You may be wondering how you can tell whether a truck driver or other party properly secured the cargo after an accident. In some cases, a legal doctrine called res ipsa loquitur, Latin for "the thing speaks for itself," may come into play.
Under this doctrine, that an event occurred is enough to show negligence. In other words, a court may decide that cargo does not fall off of trucks in the absence of negligence and, while we don't know exactly what happened, the trucking company should pay for any losses victims sustained.​
In cases where res ipsa loquitur does not apply, victims and their attorneys may need to investigate how an accident occurred. An accident investigation may involve examining driver logs, warehouse records, the securement equipment, or interviewing witnesses. A truck accident lawyer familiar with falling cargo cases can determine the evidence you need to win your case.​
How a Truck Accident Lawyer Can Help You after a Falling Cargo Accident?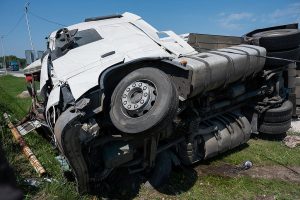 In most falling cargo accidents, the trucking company's insurance company will admit liability. When an insurance company admits liability, they accept that they need to pay for your losses, and the only issue you need to hammer out is how much they are going to give you. Even if the insurance company admits liability, they will still try to settle your case for less than you deserve. ​
For this reason, you should always retain an attorney after any trucking accident. Some of the specific ways in which a truck accident lawyer can help you include:​
Collecting Evidence and Filing Your Claim
The last thing you should have to do when recovering from your fallen cargo accident and the related injuries is to learn how to file a claim to obtain compensation for your losses. The amount of compensation you seek and the strength of your claim will depend on your supporting evidence.
Your losses may include quantifiable damage like your emergency room bill, lost wages, long-term medical expenses, and lost earning potential. Measuring your long-term medical bills requires follow-up opinions from medical experts. Your local truck accident attorney will have a network of professionals to refer you for follow-up information. ​
Attempting to Negotiate a Settlement
Once you file your claim, the insurance company will typically come back with an offer lower than the amount in your demand letter. At this point, your attorney will likely enter into settlement negotiations with the insurance company, arguing that your claim is worth more than they are offering. In some cases, your lawyer may not be able to reach a fair settlement agreement, at which point he or she will likely file a lawsuit on your behalf.​
Representing You in Court
If your lawyer files a lawsuit and you do not settle your claim while your case is pending, your case will proceed to trial. At trial, your attorney will present evidence supporting your claim and your damages to a judge or a jury.
After that, the other party will have a chance to discredit your claim and argue that you do not deserve the compensation you are asking for. If your case goes to trial, you need an experienced local truck accident attorney representing you, as the other side will certainly have a team of experienced insurance defense lawyers working against you.​
You Only Get One Chance to Settle Your Claim
It is important to understand that if you accept a settlement offer from the insurance company, that's it. If your injuries worsen and you can no longer work a few years down the road, you and your family will be responsible for covering those costs out of pocket.
Taking a settlement offer without first speaking with an attorney can put you at a disadvantage and result in you accepting an offer that does not adequately compensate your losses. Working with a truck accident attorney helps you collect the most damages available for your accident. Your attorney handles everything for you, taking the stress of negotiating a settlement or filing a lawsuit out of your day-to-day life. ​
Connect with a Local Falling Cargo Accident Attorney Now
If unsecured cargo led to your injury and damages, you could recover compensation. Contact your local Injury Law firm to hire a truck accident attorney who will have the knowledge and experience you need to support your case or claim and collect the full amount of compensation you deserve.