Speed kills is a common slogan in driver education materials and public safety initiatives, and with good reason. Higher speeds significantly increase the risk of injury or death in motor vehicle accidents. There is a massive difference between a vehicle being T-boned by another car while moving at five miles per hour compared to 30 miles per hour. A difference of only a few miles per hour can distinguish between walking away from an accident or an ambulance needing to take you away.
If you suffered injuries in an accident, speak to an attorney as soon as possible. In many cases, an attorney can obtain compensation on your behalf for all of your accident-related damages.
Speeding is Against the Law and Often Leads to Liability for Accidents
If another driver was breaking the law when they hit you, the law very likely entitles you to compensation for the damages associated with the accident.
Recently, speeding was a factor in 9,478 fatal accidents in the United States and is a contributing factor in 26 percent of all traffic fatalities, more than one in four. Speeding is dangerous not only for the driver of the vehicle speeding but also for all other drivers and passengers on the road.
Speeding often leads to:
Reduced effectiveness of occupant protection equipment
Increased stopping distance once a danger is perceived
Higher potential to lose control of the vehicle
Increased crash severity with more serious injuries
Greater economic damages
If a speeding driver hits you and you experience property damage or injury, you will likely obtain compensation for your injuries. As we'll discuss below, the best way to accurately determine the value of your claim and collect the compensation you deserve is by retaining a car accident lawyer.
Distracted Driving While Speeding Is Deadly
Distracted driving is a serious issue on American roadways and has only been made worse by the popularity of smartphones. In almost any conceivable scenario, distracted driving is negligent driving. As a result, distracted drivers are usually responsible for any injuries or damages they cause.
Distracted driving is any activity that takes a driver's attention off the road. It can involve texting, fiddling with the in-dash display or radio, or even talking to passengers. If a driver takes their eyes off the road when traveling at fifty-five miles per hour for the amount of time it takes to read a text message, it is the same as driving the length of a football field with your eyes closed. During this time, drivers can overlook road hazards and conditions, and accidents can happen.
Determining whether a driver was distracted before an accident can be difficult. In many cases, however, it is unnecessary, as the distraction caused the at-fault driver to violate some other rule, such as running a stop sign or failing to notice a stopped car in front of them.
As a result, victims don't always need to prove that a driver was distracted to recover financial compensation. An experienced lawyer can review your case and determine whether you need additional evidence to recover compensation.
You Need Evidence to Collect Damages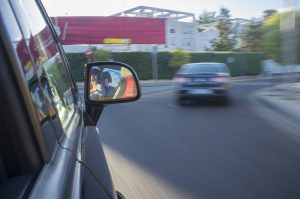 You can only collect damages that you can prove. Under state law, when a negligent driver causes injuries and other losses, victims can typically collect compensation. Unfortunately, obtaining compensation does not happen automatically, and accident victims need to take certain steps to protect their right to recover compensation. The most effective way to protect yourself is to retain a car accident lawyer as soon as possible after your accident.
Immediately upon starting your case, your car accident lawyer will begin to collect evidence supporting your damages. Collecting evidence often includes using legal instruments like interrogatories, depositions, and requests for production. Speaking with a car accident attorney as soon as possible after you have received emergency medical care for your injuries will support the collection of the best possible evidence in support of your case.
Case Consultations Are Risk-Free With Car Accident Attorneys
When choosing a lawyer to help you collect the full damages the law entitles you to, choose an attorney with the experience needed to best support your case.
Hire a lawyer with experience handling car accident cases. In the same way that you would not go to a foot doctor for an eye problem, don't go to a bankruptcy attorney for your car accident claim.
Your Car Accident Attorney Should Cost Nothing Upfront or out of Pocket
You will likely be collecting your damages from the other driver's insurance company, and insurance companies have teams of attorneys and claim analysts working against you. Their goals are to deny claims they can and pay as little as possible on those claims they cannot deny – and they have quite a bit of experience doing so. Having your own attorney evens the playing field.
Initial case consultations are free and no-risk, meaning you are not obligated to pay anything to meet with a lawyer. Additionally, your car accident attorney will cost you nothing up-front and nothing out-of-pocket, as if they take your case, it will likely be on contingency. When your lawyer takes your case on contingency, your lawyer will only collect a fee if they win your case. Any legal fees your attorney collects will be a percentage of your settlement or court award.
Connect With a Car Accident Attorney Now
The sooner you have an attorney working on your case, the sooner you can step back and focus on recovering from your injuries. A speeding accident can derail your life, and it takes time and effort to pick up the pieces.
You do not need to worry about the legal process or where to start. Seeking legal representation helps your physical and financial recovery. Contact a lawyer near you for a free case evaluation today.